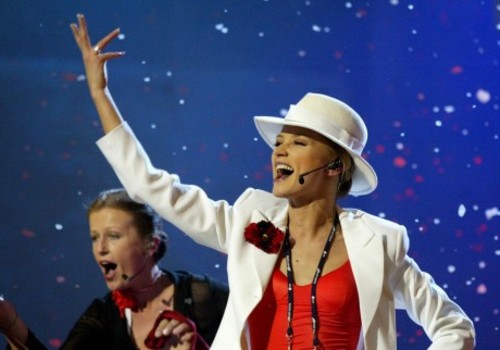 Marija Naumova is one of Latvia's most versatile, stylish and popular singers who is now expanding her international audience. Since 1995 Marija has performed at many international pop and jazz festivals and frequently has been voted as the audience's favorite.
Marija began her music career with a self-produced album of popular songs in Russian. In 2000 she made her Latvian-language debut with the album "Look into my eyes", which quickly earned her a Platinum Disc. The album included songs she had written and arranged herself. A year later Marija Naumova released "Ma Voix, Ma Voie" (2001), an inventive album of 'chansons' sung in French but written by Latvian composers and authors. The very Parisian café feel of the music echoes memories of a time when Marija's home city, Riga, was once called 'the Paris of the North'. The album was a major commercial success in Latvia, and significantly expanded her popular international repertoire. In 2002 Marija Naumova was the overwhelming winner of the national final of Eurovision Song Contest, with a song she co-wrote, "I Wanna". In the international final Marija's scintillating stage performance of this upbeat Latin-style dance song made her the darling of Europe and the Eurovision Grand Prize Winner. As Eurovision's reigning queen, she was invited to perform in festivals, concerts and popular television shows throughout Europe, including Germany, Croatia, Finland, Russia, Greece, Cyprus, the U. K., Lithuania, Estonia, Slovenia, Romania and Malta, as well as the U.S.
In December 2002 Marie's 4th album "On A Journey" and its Latvian version "Noslepumi", were released. Although the album included the Eurovision hit "I Wanna", her new songs took her in a jazzier, more serious musical direction.
Her popularity in Europe led to the May 2003 release of "On A Journey" in Germany, Austria, Switzerland, Indonesia, the Philippines and Russia. Her single and music video "I Feel Good" was presented during Eurovision Song Contest in Riga, which she also hosted.
In December 2004 the local version of Marija's latest album "On my own" was released with songs in Latvian, French, English and Portuguese. Its smooth, acoustic chill-out music, included cover versions of the world-famous songs "Comme d'habitude" and "Les feuilles mortes", as well as original songs written especially for Marija Naumova.
In December 2010, during the 2 last months of her pregnancy, Marija as a gift for her son recorded the album "Lullabies". This album consists of 10 lullabies in 9 different languages. In 2012 Marija produced a musical show "Midnight in Paris" that featured famous French musicians Tony Bonfils (who performed with Charles Aznavour, Ives Montand, Dee-Dee Bridgewater and others), Francois Parisi – accordionist and composer of Ballad de Paris in Woody Allen's movie "Midnight in Paris", and Latvian symphony orchestra. May 2013 the DVD "Midnight in Paris" will be released in Latvia.
Besides her singer's career, Marija has proved herself as a talented actress. Her first role in the theatre was in an early childhood. Later she performed the main roles in musicals "Sister Carrie" by Raimonds Pauls, "Ugly Duckling" by Jānis Lūsēns and "The Ladies' Paradise" by Raimonds Pauls and Jānis Peters. In 2004 Marija played the main role in the musical "The Sound of Music" and "The Miserables", staged in Riga by an international team of more than 200 participants.
Now Marija lives in Paris and works on her new projects in France. When on the stage, Marija radiates an easy charm, warm elegance and engaging humor. Her fluency in English, French, Russian and Latvian enables her to establish a quick rapport with the audience. Marija Naumova is a superb singer, dancer, composer and entertainer – one of Europe's hottest new performing artists.