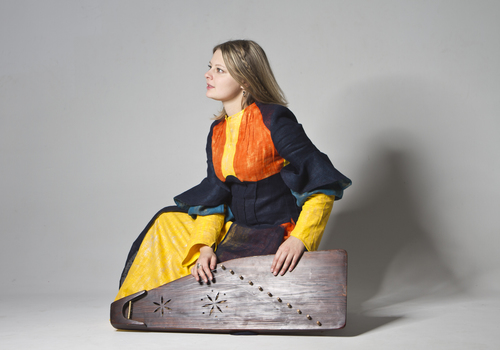 Musician Laima Jansone started her professional solo career in 2011.
Since then she has performed in the biggest concert halls of Latvia, such as Lielā ģilde, Gors, Doma baznīca, LNB Ziedoņa zāle and others. Laima also has had concerts abroad in countries like Italy, Belgium, Australia, Norway, Germany, Finland and more.
"We could say that recently "kokle" (a national Latvian musical instrument similar to the harp/zither) due to the bright phenomenon of the young and talented player of this instrument Laima Jansone, has become fashionable and other musicians want to use it as well. And it is good that they play it, because the result is a very stimulating and exciting meeting of different worlds," says Inese Lūse to the newspaper Diena. Because of the previously mentioned phenomenon, Laima has developed collaboration projects with the widest range of musical sound. In 2011 Laima was invited to perform in the World's biggest exhibitions WOMEX main stage.
Laima has performed together with the symphonic orchestra Sinfonietta Riga, Chorus of the Latvian Radio, as well as with Laima Jansone's trio Zarbugans established by M. Briežkalns, during the major Baltic jazz festival Rīgas Ritmi.
Her 2013 performance "Spēka vārdi" was broadcasted in the Euroradio and it was nominated for the Latvian Music Award and for the Theatre Award Spēlmaņu nakts. This year the Latvian Television created a story "Laima Jansone: the Master of Kokle" in the television series "Personības" (Personalities).
While talking about Laima's projects, it is necessary to mention the performance with Maestro Raimonds Pauls at the concert Dzimuši Rīgā, recording with Renārs Kaupers, as well as the concerts in the excellent jazz and classical music concert halls Flagey and Bozar in Brussels.