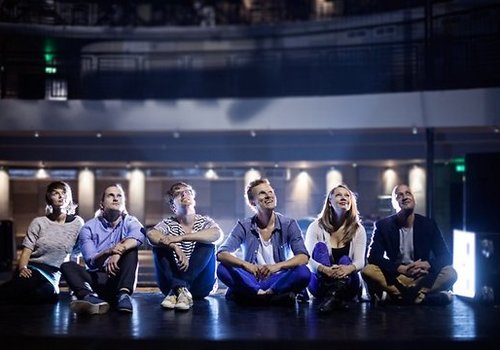 The Sound Poets was founded in the summer 2011 by two friends – Janis (vocals, keyboards, guitar) and Normunds (electric guitar). With an uplifting concert at the end of 2011 the line-up was completed. Their first single "Emily" rocketed the band into the spotlight of Latvian music scene with local music-media experts announcing it as probably the best Latvian pop-rock song of the year. The next single "Kalniem pāri" followed, becoming the top song on radio charts, summer music festivals and almost every graduation party held that summer.
The same summer Latvian pop-rock grand Prāta Vētra ("Brainstorm") invited The Sound Poets to join their album concert tour "Another Still Life" as the opening act. Followed by striking performances in Latvia's most notable summer music festivals, including Positivus and Summersound, The Sound Poets played in front of thousands of listeners on their first summer together The Sound Poets are often compared to Coldplay, Arcade Fire and Keane, nevertheless they have kept their own unique, emotionally intelligent pop-rock handwriting. Their performances are energetic, emotionally charged and sincere, inspiring, leaving a vivid, long lasting impression.
The Sound Poets are Janis, Normunds, Peteris (drums), Gints (bass guitar) and Undine (cello). On the 22nd of March 2013, with the support of Latvian indie music label "I Love You Records", The Sound Poets released their debut album "Tavs stāsts" ("Your Story"), followed by the premiere of the short documentary film "Tavs stāsts" in collaboration with director Adriana Roze. In 2014 The Sound Poets released an album in English.