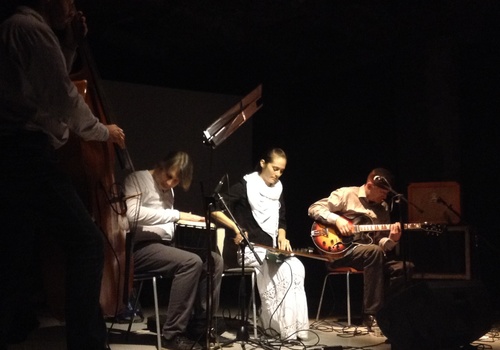 In Riga, back in 2008 the photographer Inese Kalniņa asked her friend, the guitar player Ģirts Pavēnis to play at the opening of the exhibition Free Frontiers (male nude photography). Inese's request was "to play anything but jazz". Ģirts invited an electric kokle (Latvian folk string instrument) player Latvīte Podiņa and djembe drummer Jānis Cīrulis and together they soon compiled a calm instrumental music program. Although at the start it seemed like a one-day project, the band continued performing as there were many offers to play.
Before Vētras Saites, Latvīte Podiņa had played ethnographic folk music and indie rock; Ģirts Pavēnis played Irish folk, pop, and jazz music. The author of the band's music is mostly Ģirts Pavēnis but the other band members also participate in the creative process.
In the music of Vētras Saites you can hear the elements of cinema soundtracks, Latvian and Finnish folk, jazz, and world music. The musicians themselves classify their music as a photo ambient genre for they believe that their music goes together with such art platforms as photography, cinema and dance.
In 2011 the double bass player Ansis Klucis joined Vētras Saites. The band also invited the flute player Sniedze Prauliņa and jazz singer Inese Bērziņa to join during the record of the first CD "Teātra krustojums"(Crossroads of a Theatre). The Theatre Crossroads is a real place in Riga and it possesses some special powerful energy as in 1919 the Republic of Latvia was proclaimed at this place. In 2013, the album "Teātra krustojums" was nominated for the category The Best Debut in Latvia. In February 2013, it hit the 20th position of "World Music Charts Europe". Currently, the band continues to perform in Latvia at the art events and works on the new album.