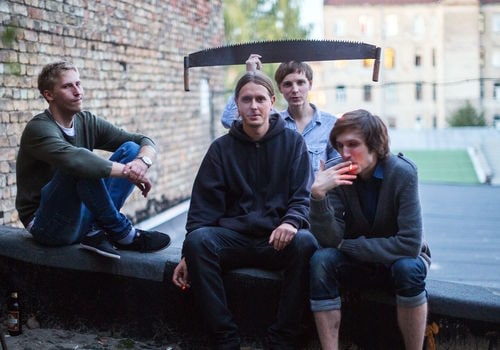 "Židrūns" is a band from Latvia. It came together in 2003 and was initially associated with Pilsrundāle and Valmiera in Latvia. The quartet currently rehearses in the Ādmiņu iela DIY music rehearsal area in Rīga, Latvia.
The band plays its signature kind of rock music for the period, which has come after post-punk, post-hardcore and stoner rock. It is a hysterical, dull and sometimes elaborate beam of energy. The lyrics are in the Latvian language, also in its dialects and variations.
Four albums jointly composed by the quartet have been released: "Židrūnam sāp" (2008, SKYR), "Židrūns dzeltenbaltdzeltenais" (2010, SKYR), "Židrūns un tas, ko nevar nest" (Židrūns carrying the unbearable) (2016, I Love You Records), "Židrūns kovārņu mazbērniem" (Židrūns to the Grandkids of Jackdaws) (2020, I Love You Records).
The current line-up consists of Ritvars Bīders (a former member of "Gultā ar Fantomasu", "Lokators"), Ulvis Urtāns (a former member of "Mazie smirdīgie kociņi", "Lokators"), Anrijs Korps (a former member of "9 Horizon") un Klāvs Kalnačs (plays also in "Nielslens Lielsliens" and solo as Siensliens).
Previous members were Didzis Jurgelāns, Didzis Počs and Kārlis Liepa.